Akira Mitsurugi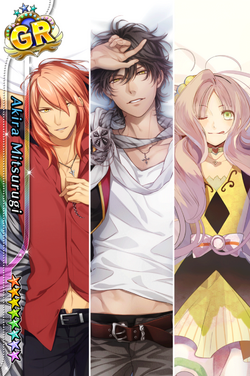 "Akira Mitsurugi's Dakimakura"
Skills&Stats
Edit
Warm embrace
Restore 3 Stamina!

(15%(Lv.1) / 24%(Lv.10) chance of Activating every 30 Seconds.)

(Percentage +1 per Skill Lv. Up)

Sleeping Panther
The Score Value of all COOL Icon Taps is increased by x3.5!

(Activates when all F∞F members are in the team and this card is the leader)
Un-idolized
Initial
None
None
None
Max Lv.
None
None
None
Idolized
Initial
Max Lv.
7,441
7,409
8,347
Max Changed
None
None
None
How to acquire
Edit
You get this card if you buy Akira Mitsurugi's Dakimakura from the I-Chu Awards 2016.
Ad blocker interference detected!
Wikia is a free-to-use site that makes money from advertising. We have a modified experience for viewers using ad blockers

Wikia is not accessible if you've made further modifications. Remove the custom ad blocker rule(s) and the page will load as expected.