Seiya Aido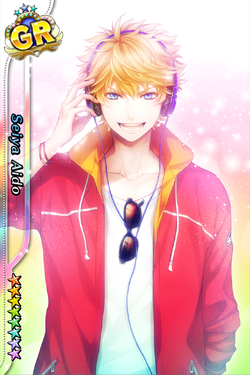 "soleil"
Skills&Stats
Edit
Infinity Soul
When the amount of PERFECT taps reaches 80, the next 15 Icon Taps receive a

900pt.(Lv.1) / 1170pt.(Lv.10)

Score Boost!

(Score Boost +30 per Skill Lv. Up)

Heart a SONG!!
When Stamina reaches 0, it is restored by 50%!

(Activates when all F∞F members are on the team and this card is the Leader)
Un-idolized
Initial
Max Lv.
Idolized
Initial
5,383
5,391
5,425
Max Lv.
7,957
7,965
7,999
Max Changed
How to acquire
Edit
You get this card if you buy the soleil music album
Ad blocker interference detected!
Wikia is a free-to-use site that makes money from advertising. We have a modified experience for viewers using ad blockers

Wikia is not accessible if you've made further modifications. Remove the custom ad blocker rule(s) and the page will load as expected.