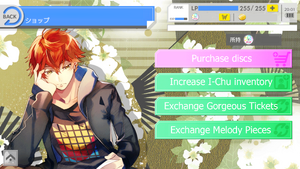 You can buy aichuu disks, restore LP with discs and increase your box size here. 1 disc = 5 spaces.
If you want to buy discs a pop up will show up, asking you to confirm that a parental guardian allowed you to buy discs. This will only happen if you registered your age to be under the age of 20. Click on the pink button to confirm.

And here are the other options.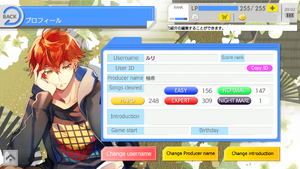 In your profile you can change your self introduction, your username -the name other players see, and your producer name -the name the I-Chu will use in the stories.

Voice DownloadEdit
If you need to download, or delete the ingame voices you can do so here! The options for deleting voices are the same as when downloading the voices. If you click on the image of an I-Chu you can delete/download the voices of him alone.

The ingame options. If you turn on "Live production" some extras like lights appear when you play a live. Though, this can cause your phone to lag!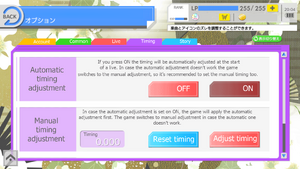 If you click "on" the timing gets adjusted automatically when you start a live.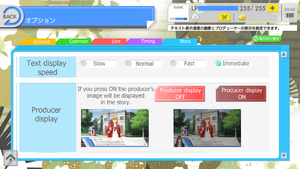 Clicking on the "immediately" button makes the text in the story show up at once.

Transfer dataEdit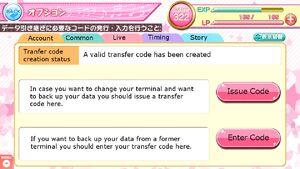 When choosing "Issue code" a screen will pop up. This is a warning that states that if you would like to transfer your game from an android to ios, or viceversa, it won't transfer over your discs.
Transfering to a device with the same operating system won't cause you to lose your discs and is completely safe.
You can use your transfer code only once. If you transfer your account you have to generate a new code.