Ad blocker interference detected!
Wikia is a free-to-use site that makes money from advertising. We have a modified experience for viewers using ad blockers

Wikia is not accessible if you've made further modifications. Remove the custom ad blocker rule(s) and the page will load as expected.
QuestionnaireEdit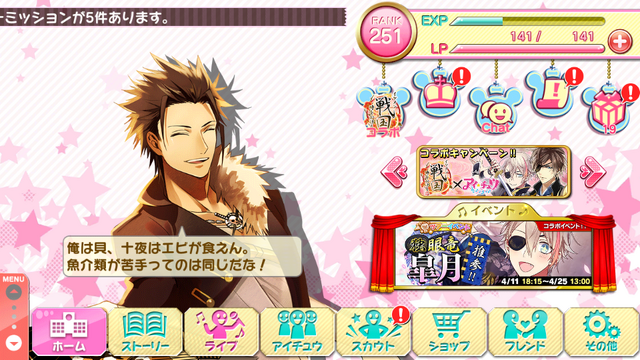 To get the first Satsuki LE you have to fill out a questionnaire.
The correct answers are
*1) ぱふぇ
*2) 金平糖
*3) 姫様
*4) 石田三成
*5) 山犬
It doesn't matter if you answer one question wrong, you will still get the LE. However, if you answer one question wrong you have to answer it again until you get it right.
The order in which these questions come are randomized.
Event Point RewardsEdit
Point Rewards
Points required
Rewards
Points required
Rewards
1,500
5,000 Coins

533,000
SR Kumakocho (EXP)

3,000
200 Friend points

588,000
Lollipop

4,500
Disc

646,000
SR Kumakocho (EXP)

7,500
Candy

707,000
LE Satsuki Kururugi

13,500
R Kumakocho (EXP)

771,000
Lollipop

21,000
8,000 Coins

838,000
Disc

28,500
300 Friend points

908,000
RR Kumakocho (SKILL)

36,000
Disc

981,000
SR Kumakocho (COIN)

49,500
200 Friend points

1,057,000
500 Friend points

63,000
R Kumakocho (SKILL)

1,136,000
SR Kumakocho (EXP)

76,500
10,000 Coins

1,218,000
Premium Ticket

90,000
RR Kumakocho (SKILL)

1,303,000
Disc

103,500
Candy

1,391,000
SR Kumakocho (SKILL)

117,000
SR Kumakocho (COIN)

1,482,000
SR Kumakocho (COIN)

138,000
10,000 Coins

1,576,500
500 Friend points

159,000
Disc

1,673,000
RR Kumakocho (SKILL)

180,000
SR Kumakocho (EXP)

1,773,000
Lollipop

201,000
10,000 Coins

1,876,000
Disc

232,000
Disc

1,982,000
SR Kumakocho (EXP)

266,000
SR Kumakocho (COIN)

2,091,000
SR Kumakocho (COIN)

303,000
LE Satsuki Kururugi

2,203,000
500 Friend points

343,000
500 Friend Points

2,318,000
SR Kumakocho (SKILL)

386,000
SR Kumakocho (EXP)

2,436,000
Lollipop

432,000
SR Kumakocho (COIN)

2,557,000
Disc

481,000
Disc

2,681,000
Disc
Event Point Ranking RewardsEdit
| Rank | Reward |
| --- | --- |
| 1st - 1,000th | Premium Ticket x3 |
| 1,001st - | Premium Ticket x2 |
| 3,000th | Disc 3x |
| 3,001st - | Premium Ticket x1 |
| 5,000th | Disc 3x |
| 5,001st - 10,000th | Premium Ticket 1x |
| 10,001st - 20,000th | Disc 3x |
| 20,001st - 30,000th | Disc 2x |
| 30,001st - 40,000th | Disc 1x |
Final Ranking Point CutoffEdit
| Ranking | Point Cutoff |
| --- | --- |
| 1st | 14,000,010 |
| 100th | 1,218,256 |
| 1,000th | 711,006 |
| 2,000th | 495,604 |
| 3,000th | 416,758 |
| 5,000th | 332,042 |