Ad blocker interference detected!
Wikia is a free-to-use site that makes money from advertising. We have a modified experience for viewers using ad blockers

Wikia is not accessible if you've made further modifications. Remove the custom ad blocker rule(s) and the page will load as expected.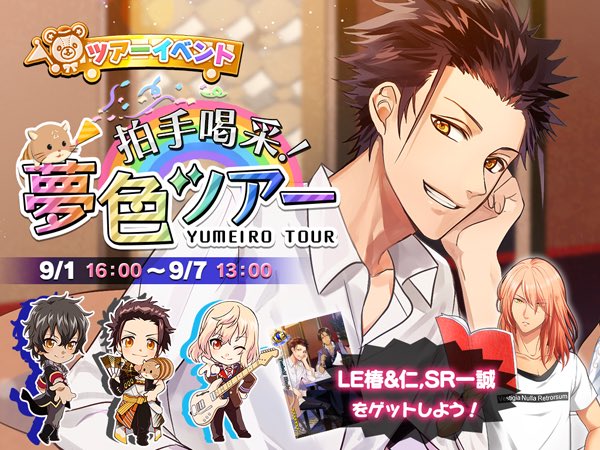 QuestionnaireEdit
To get some candies and tickets you have to fill out a questionnaire.
The correct answers are
*1) 1月
*2) ハシビロコウ
*3) 北海道
*4) ナッツ
*5) 響也
It doesn't matter if you answer one question wrong, you will still get the rewards. However, if you answer one question wrong you have to answer it again until you get it right.
Event Point RewardsEdit
Point Rewards
Points required
Rewards
Points required
Rewards
1,500
5,000 Coins

396,000
SR Kumakocho (EXP)

3,000
200 Friend points

436,500
Lollipop

4,500
Disc

477,000
SR Kumakocho (EXP)

7,500
Candy

519,000
SR Kumakocho (SKILL)

13,500
R Kumakocho (EXP)

561,000
Lollipop

21,000
8,000 Coins

603,000
Disc

28,500
300 Friend points

645,000
RR Kumakocho (SKILL)

36,000
Disc

687,000
SR Kumakocho (COIN)

49,500
200 Friend points

729,000
500 Friend points

63,000
R Kumakocho (SKILL)

783,000
SR Kumakocho (EXP)

76,500
10,000 Coins

838,500
Premium Ticket

90,000
RR Kumakocho (SKILL)

894,000
Disc

103,500
Candy

949,500
SR Kumakocho (SKILL)

117,000
R Kumakocho (EXP)

1,005,000
SR Kumakocho (COIN)

138,000
10,000 Coins

1,060,500
500 Friend points

159,000
Disc

1,129,500
RR Kumakocho (SKILL)

180,000
SR Kumakocho (EXP)

1,198,500
Lollipop

201,000
10,000 Coins

1,267,500
Disc

222,000
Disc

1,336,500
SR Kumakocho (EXP)

243,000
SR Kumakocho (COIN)

1,405,500
SR Kumakocho (COIN)

262,500
500 Friend points

1,488,000
500 Friend points

285,000
SR Issei Todoroki

1,570,500
SR Kumakocho (SKILL)

312,000
SR Kumakocho (EXP)

1,654,500
Lollipop

339,000
SR Kumakocho (COIN)

1,738,500
Disc

367,500
Disc

1,822,500
Disc
Event Point Ranking RewardsEdit
| Rank | Reward |
| --- | --- |
| | LE Tsubaki Rindo x2 |
| 1st - 100th | Premium Ticket x3 |
| | SR Issei Todoroki x2 |
| | LE Tsubaki Rindo x1 |
| 101st - 1,000th | Premium Ticket x3 |
| | SR Issei Todoroki x1 |
| | LE Tsubaki Rindo x1 |
| 1,001st - | Premium Ticket x2 |
| 3,000th | Disc x3 |
| | SR Issei Todoroki x1 |
| 3,001st - | Premium Ticket x2 |
| 5,000th | SR Issei Todoroki x1 |
| 5,001st - 10,000th | Premium Ticket x2 |
| 10,001st - | Premium Ticket x1 |
| 20,000th | Disc x3 |
| 20,001st - 30,000th | Premium Ticket x1 |
| 30,001st - 40,000th | Disc x3 |
| 40,001st | Disc x1 |
Final Ranking Point CutoffEdit
| Ranking | Point Cutoff |
| --- | --- |
| 1st | 10,000,000 |
| 100th | 1,325,892 |
| 1,000th | 670,482 |
| 2,000th | 638,957 |
| 3,000th | 619,212 |
| 5,000th | 425,238 |