Ad blocker interference detected!
Wikia is a free-to-use site that makes money from advertising. We have a modified experience for viewers using ad blockers

Wikia is not accessible if you've made further modifications. Remove the custom ad blocker rule(s) and the page will load as expected.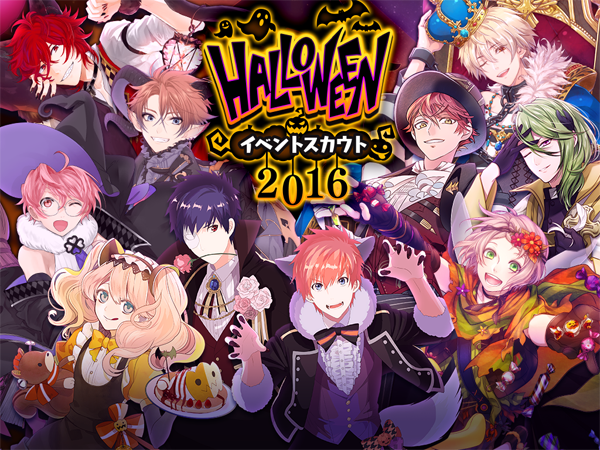 Start Date:10/26/2016 00:00 JST
End Date: 11/01/2016 23:59 JST

Attention: This scout will be different from the other scouts so far. Every two days the appearance rates of two chosen characters will be up in the scouting box. The rate up cards and dates are listed up below. The Halloween Scouting cards from 2015 will have an increased scouting rate compared to non-event cards.
If you manage to idolize a Halloween 2016 LE, the chibis (called SD characters) will be shown in their Halloween 2016 costume, when you use them in your team.
Rate up dates
Edit
Halloween 2016 cards
Period
Cards
10/26 00:00 until 10/27 23:59

Tatsumi Madarao & Momosuke Oikawa

10/27 00:00 until 10/28 23:59

Torahiko Kusakabe & Kyosuke Momoi

10/28 00:00 until 10/29 23:59

Leon & Lucas

10/29 00:00 until 10/30 23:59

Takamichi Sanzenin & Saku Uruha

10/30 00:00 until 10/31 23:59

Kanata Minato & Ban Jumonji

10/31 00:00 until 11/01 23:59
All of the cards will have the the same scouting rate