Ad blocker interference detected!
Wikia is a free-to-use site that makes money from advertising. We have a modified experience for viewers using ad blockers

Wikia is not accessible if you've made further modifications. Remove the custom ad blocker rule(s) and the page will load as expected.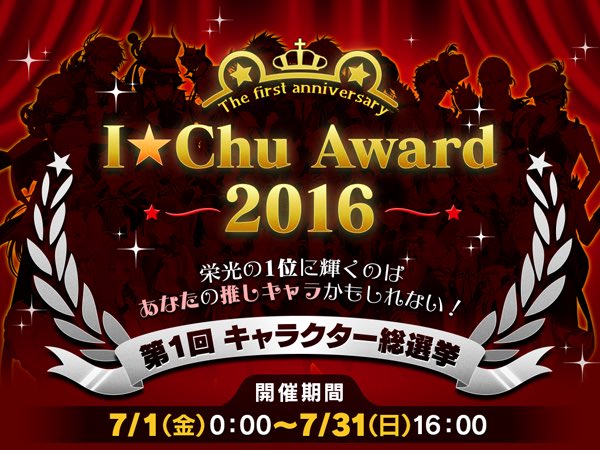 Event Period: 1st July 2016 00:00 JST - 31st July 2016 16:00 JST

The first anniversary of I-Chu is here and because of that the I★Chu Award 2016 started!
From July 1st to July 31st you have the time to vote for your favourite idol. At the end of the awards the top 3 most voted idols will get prizes!

How to voteEdit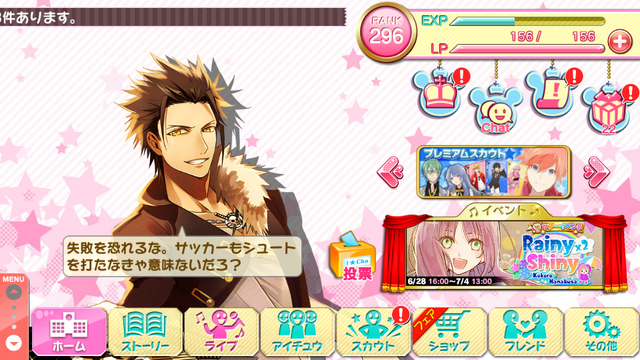 Click on the little box icon next to the event banner
Here you can vote for your favourite idol.
Simply click on the icon with the I-Chu you want to vote for and a popup will appear.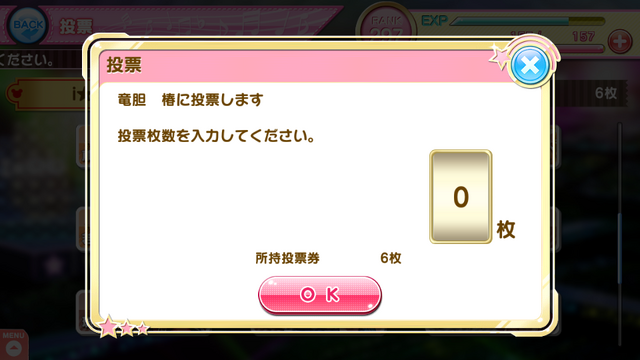 Move the slider to adjust the amount of tickets you want to use to vote. The small number over the "Ok" button indicates how many tickets you have.
The I-Chu you voted for has a little message for you, asking you if you really want to vote for him. Click the pink button if you want to.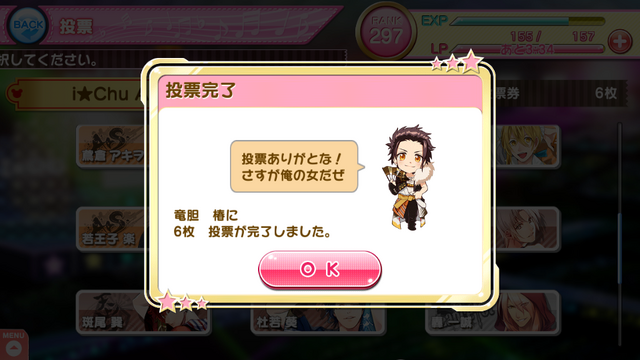 A little thank you message appears. You're done with voting now!
If you gain more tickets you can always vote again!
How to get ticketsEdit
You can get tickets as a daily log-in bonus on the 29th June.
From the 1st July on a daily mission will be added which will give you a ticket as reward.
You get tickets when scouting in the special, event, and premium scout. You won't get any tickets by scouting in the royal, normal and badge scout. The amount of tickets you will get is proportional to the scouting you did.
You can also buy the tickets!
For that, head to the shop. You can either buy a special set, consisting of one set with 40 discs and one with 70.
The sets will give you:
voting tickets (80 tickets in the 70 Disc set; 50 tickets in the 40 Disc set)
One WILD, one POP and one COOL EXP bear
3 candies
Daily ticket missionEdit
Mission
Reward
Clear a song with a team consisting of two people
1 Ticket
Rank
Reward
1
A new exclusive LE/GR
1 to 3
These I-Chu will debut with a solo song from Victor Entertainment!


They will also be massively advertised in Animate and will get lots of new merchandise!
Midway resultsEdit
On 15th July 5pm JST the midway results have been announced!
Bear in mind that these aren't the final results.
Rank 1 - 3
Rank
Character
Votes
1
Akira Mitsurugi
245,016
2
Kokoro Hanabusa
221,590
3
Mutsuki Kururugi
215,063
Rank 4 - 15
Rank
Character
Votes
4
Tatsumi Madarao
188,045
5
Issei Todoroki
185,080
6
Eva Armstrong
181,172
7
Seiya Aido
151,333
8
Futami Akabane
144,738
9
Mio Yamanobe
134,495
10
Satsuki Kururugi
128,972
11
Takamichi Sanzenin
110,659
12
Li Chaoyang
110,568
13
Raku Wakaouji
101,063
14
Ban Jumonji
100,456
15
Aoi Kakitsubata
99,529
The halfway results have been announced a second time on July 22nd.
Rank 1 - 3
Rank
Character
Votes
1
Kokoro Hanabusa
314,811
2
Akira Mitsurugi
299,164
3
Mutsuki Kururugi
262,589
Rank 4 - 15
Rank
Character
Votes
4
Issei Todoroki
260,790
5
Tatsumi Madarao
256,515
6
Eva Armstrong
225,331
7
Futami Akabane
191,130
8
Seiya Aido
189,786
9
Satsuki Kururugi
165,602
10
Mio Yamanobe
163,647
11
Takamichi Sanzenin
151,272
12
Li Chaoyang
139,128
13
Raku Wakaouji
125,411
14
Akio Tobikura
123,909
15
Aoi Kakitsubata
121,183
Final ResultsEdit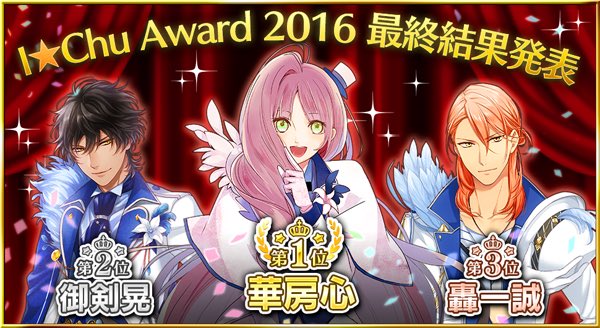 On August 10th I-Chu posted the final results of the awards. The ranking is as follows
Rank 1 - 3
Rank
Character
Votes
1
Kokoro Hanabusa
434,034
2
Akira Mitsurugi
433,156
3
Issei Todoroki
391,185
Rank 4 - 15
Rank
Character
Votes
4
Mutsuki Kururugi
384,896
5
Tatsumi Madarao
365,408
6
Eva Armstrong
333,418
7
Seiya Aido
293,978
8
Futami Akabane
267,113
9
Akio Tobikura
244,161
10
Satsuki Kururugi
231,869
11
Mio Yamanobe
216,700
12
Takamichi Sanzenin
203,744
13
Li Chaoyang
192,031
14
Raku Wakaouji
170,528
15
Ban Jumonji
166,840