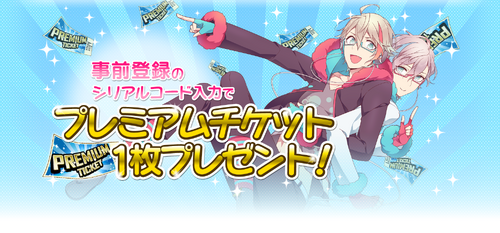 Pre-register for the game at this page and get lots of rewards now!
Event has already ended!
How to Pre-Register
Edit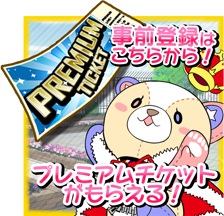 Pre-registration (Email)
Edit
Enter your email into the white field that is located beneath the "またはメールアドレスで客様する" on the right side of the page, and click on yellow 送信 button to pre-register with your email.
Pre-registration (Twitter)
Edit
Click on the big yellow banner to the left of the page and it will redirect you to a page to pre-register. Log onto your twitter account if you are not logged on yet and share to twitter for the reward.
Reward: 1 Premium Ticket
Be careful and keep your serial code a secret until the game has launched.
Keep in mind that we will not send you a second serial code.
The personal information that's received by pre-registration events will only be used for the event and will not be disclosed or shared with a third party without your consent.
Your personal information will be handled in accordance with our privacy policy.
Serial codes are limited to one per account
The contents of this campaign are subjected to changes without notice.
If you do not receive the email with the serial code, please check your email's junk folder. It might have ended up there. Remember to allow email from @i-chu.jp.
If you still don't receive a confirmation email after a while, please confirm that there is no mistyping and register again.
Ad blocker interference detected!
Wikia is a free-to-use site that makes money from advertising. We have a modified experience for viewers using ad blockers

Wikia is not accessible if you've made further modifications. Remove the custom ad blocker rule(s) and the page will load as expected.