Rara Arisugawa
有栖川ララ, Arisugawa Rara
Girl? Crossdressing iKids!
Characteristics
Age
5
Birthday
August 24th
Blood Type
0
Height
104 cm
Weight
13 kg
Additional Information
Special Skill
Fave Food
LeastFave Food
Looks up to
Baber
Group
baby hop
Description
Edit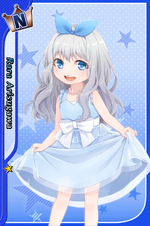 Character Lines
Edit
Homepage
Rara is Arisugawa Rara and twins with Mimi.
Baber-kun is so, so tall, and it got Rara really scared!
The clothes of Rara get decided by Mama and Mimi.
Rara heard Haruto-kun is a detective. That's amazing.
Since Mimi is so cute, Rara is worried that he might get kidnapped.
System
Story
Please choose your favorite story.
Main Story
You can get lost trying to pick a part.
Excited to see how it will continue.
Love Story
Please read your favorite!
Shop
Rara helps you carrying the things.
Disk Purchase
Rara will buy a present for Mimi too.
Friends
Friends are important! You have Rara too.
Other
Looks like you can do a lot of things here.
Affection Story
Edit
Searching for someone lost
Rara:
Ooh, where did Mimi go...?
Rara:
Onee-san, you haven't seen Mimi?
Rara:
Mimi is Rara's twin and little brother.
Rara:
... yes, brother? Ehehe, Rara and Mimi are both crossdressers.
Rara:
There still wasn't a self-introduction. Rara is Rara Arisugawa. Nice to meet you, Onee-san.
Rara:
If you would like, you could help searching for Mimi--
Rara:
Ah, there! Mimi-!
Rara:
Mimi has been found! Thank you for talking, Onee-san!
Birthday Quotes
Edit
| | |
| --- | --- |
| Own | |
| Mimi | |
| Baber | |
| Producer | It's onee-san's birthday? What present would you like. |
Ad blocker interference detected!
Wikia is a free-to-use site that makes money from advertising. We have a modified experience for viewers using ad blockers

Wikia is not accessible if you've made further modifications. Remove the custom ad blocker rule(s) and the page will load as expected.