IMPORTANT: THIS IS NO REGULAR INGAME GACHA/SCOUT
Event Duration
Edit
Start: 03/15/16 10:00 JST
End: 04/14/16 18:00 JST
Deadline for recieving the prize: 05/15/16 23:56 JST

Event info
Edit
During the time from March 15th until April 14th you can draw 8 times a day in a gacha on https://i-chu.flyinggacha.com/ and get lots of cards, from which you can choose one at the end which you will keep ingame!
You will have 4 draws each day which will replenish each day at 12pm JST and 12am JST.
How to participate
Edit
How to participate
To participate in this gacha make an account here.
You can draw 8 times a day, four times in between 12pm and 12am, and another 4 times between 12am and 12pm.
To do so click on the big green button.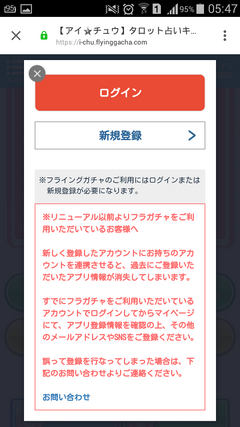 Then click on the button with the arrow, beneath the red button and register.
You can do so by either registering via email or by simply connecting to your facebook or twitter.
If you connect via twitter and you aren't following the official twitter it will automatically follow them for you.
Connecting via facebook/twitter is recommended since you can get an extra two draws per day when you share your results.
If you have done that it will direct you to that page, if you click anywhere there should come a popup.
Now you need to choose your OS. Just click on the little image and-
accept by clicking the pink button.
Now, that you're registered it'll draw for the first time, if not, just click on the big, red button.
If you got a card, click on the red button underneath of it to draw again, click the yellow button to see your collected cards and click the grey button with a small arrow to go back to the main page.
How to redeem the cards
Edit
How to redeem the cards
IMPORTANT: You can choose a card to redeem at any time, but you can only do so once.
After you redeemed one card you can't choose another one to redeem.
To choose a card you want to redeem click on the yellow button.
Click on the red button underneath the card you want.
Then click on the red button on the right and it will take you back to the main screen.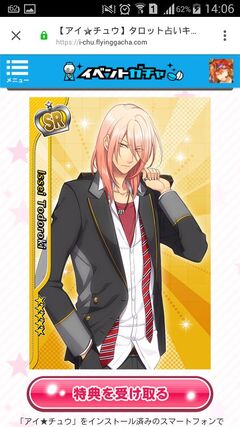 The selected card will be on the bottom, so scroll down.
Press the red button underneath the card and aichuu will automatically open. A window saying that the card has been recieved will appear and you will find the card in your present box.
Ad blocker interference detected!
Wikia is a free-to-use site that makes money from advertising. We have a modified experience for viewers using ad blockers

Wikia is not accessible if you've made further modifications. Remove the custom ad blocker rule(s) and the page will load as expected.