By playing the rhythm game you will receive and collect event points. You can also earn rewards by your final rank when the event is over. You need a team full of cards of one attribute to earn tap bonuses.
How to acquire pointsEdit
You have to play 5 songs in a row, your HP will be passed on through every song.
You need to use a team based on the attribute of your tour to get tap bonuses.
As the tour proceeds the difficulty will get harder and the damage you take if you get a "MISS" or "BAD" will increase.
At the end of tour you can also receive bonus points up to 5000 depending on the songs cleared rank
Important: Songs which aren't as expert songs in-game can be expert songs in the event too!
How to playEdit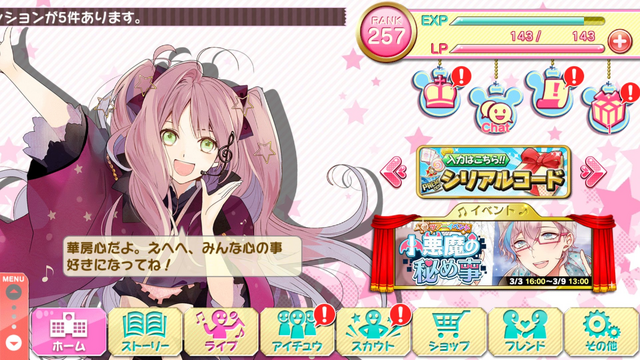 Click on the event banner to get to the event page
Green Button: Event rules and event notice
Yellow Button: Ranking
Red Button: Rewards
Red middle Button: Continue your tour
Orange Button: Start the tour
Choose the difficulty of the tour you want to play!

Blue Button: Easy
Yellow Button: Normal
Red Button: Hard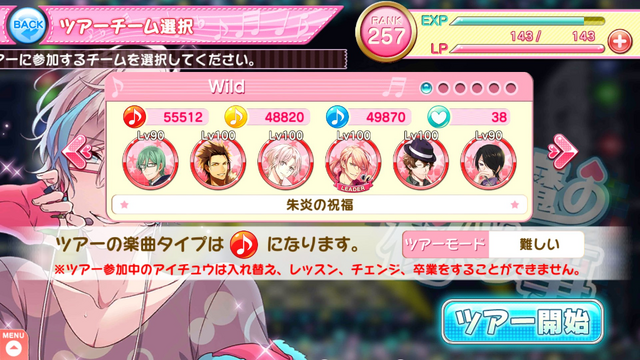 You will see which attribute type your tour will be here. Make sure you choose a fitting team which matches the attribute of your tour.
Important: You can't change your team, level up the cards, change your cards, nor graduate the cards used in the team you play the tour with!
You will see the difficulties of your tours here. You can't choose which songs to play but the songs will be of the attribute of your tour. Songs which aren't included as ex songs in the game yet can be ex songs in the event too.

Yellow Button: Recharge your HP if they should fall under 25%.
WARNING: You can only recharge your HP by using a disc.
Blue Button: Stop the tour.
Stopping the tour doesn't cost you anything.
Violet Button: Restart the tour
WARNING: You can only restart the tour by using a disc.
Red Button: Continue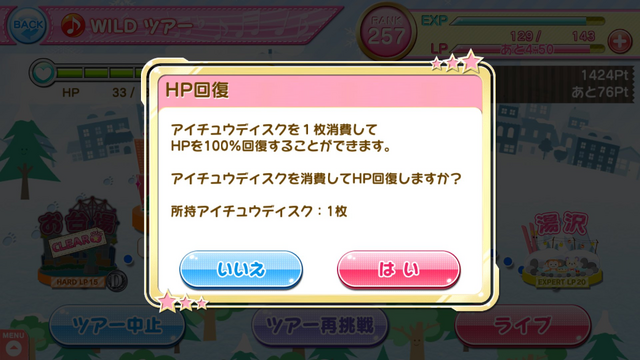 If you want to recharge your HP you will see this screen.

Blue Button: No
Red Button: Yes
Ad blocker interference detected!
Wikia is a free-to-use site that makes money from advertising. We have a modified experience for viewers using ad blockers

Wikia is not accessible if you've made further modifications. Remove the custom ad blocker rule(s) and the page will load as expected.